Unfortunately, the lab picnic was canceled due to an irrational faith in weather forecasters. Try again next week. But we did want to say farewell to Deepika Rajaram, who was visiting on a 6-week internship, from her program at Anna University in Chennai, India. Its very tough to get much accomplished in 6 weeks, but Deepika worked very hard, studying under the mentorship of Ritu Kumar, and I think she learned quite a lot, and also was able to help move along one of Ritu's projects. Keep in touch, Deepika.

Our laboratory is comprised of investigators who hail from all over the world. This includes not only India (Ritu) but also Colombia (Miriam), Spain (Jessica), China (Yahui), Korea (Heejin), Taiwan (Su-Yi), the UK (Emily, Sarah), and even the mysterious kingdom of New Jersey (Ingrid). In the US we also represent the Pacific Islands of Hawaii (Suveg), the Rockies (Bran), the midwest (Alice, Todd), and a scattering of east-coasters (Susanna, Arielle, Karen, Ellen). Of course, this is New York City, so its normal to be around a cosmopolitan mix, but science is truly an international pursuit, and one of the best things about working in a lab is meeting interesting people from all over the world. Importantly, this has a major positive impact on the potluck picnic menu!

You might notice, however, that we are not so well balanced when it comes to gender. You may think that STEM is generally biased against women, and perhaps it is. However, we currently have 14 women and 4 men (and only if you include Nate who is currently in Ithaca, and me, who is rarely allowed to carry out actual experiments). Well, there is no conspiracy here, and lab membership is dynamic and always shifting as people move in and out. We just want good people, and don't care at all how they identify. However, it is true that women are generally quite well represented in our specific field of developmental biology (while it is also true that at the highest levels of academia the balance shifts again to men, for reasons that should be debated).

Why do women do so well in developmental biology? One could speculate either nature (they have a natural affinity for the discipline) or nurture (they have role models that inspire). Personally (while stupidly wading into a topic on which I have absolutely no qualifications to comment; note to self: really should stick to cardiovascular development) I would argue for nurture. Developmental biology (and related molecular genetics) is a relatively young scientific discipline, and many of the great "mothers" of the field were...women. We can point to brilliant scientists like Hilde "shoulda had Spemann's Nobel" Mangold, Barbara McClintock, Rosa Beddington, and Nicole LeDouarin. Leaders today include Christiane Nusslein-Volhard, Brigid Hogan, and Janet Rossant. Right here at the Tri-institution we have Alex Joyner, Elaine Fuchs, Kathryn Anderson, Heidi Stuhlmann, Kat Hadjantonakis, Cori Bargmann, Mary Hatten, Liz Lacy, etc. (sorry I don't mean to leave anyone out as Im just free-associating).

So, while it must have been horribly difficult for the founders, today there are plenty of great women scientists who serve as leaders and can be role models to inspire the next generation. Maybe eventually it will not even be needed, as it becomes less of an issue. Just read their papers, that should be inspiration enough! Todd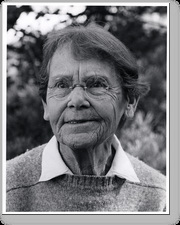 Barbara McClintock, 1902-1992 Discovered transposable elements (jumping genes). At the time, nobody believed it was true. She believed in her data and she was right. In fact, transposable elements (or really ex-transposable elements) make up a large percentage of our genome! She was awarded the Nobel Prize in 1983. She was a Cornell alum!!