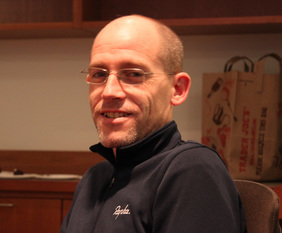 Brandoch Cook Ph.D.
brc2018@med.cornell.edu
Instructor of Cell and Developmental BiologyDepartment of Surgery
My projects in the laboratory primarily involve the creation of loss-of-function models in mouse embryonic stem cells and zebrafish using conditional transgenic expression of interfering RNA hairpins. I am currently using these systems to examine the role of BMP effector molecules, particularly the SMAD family of transcription factors, in primitive and definitive hematopoeisis.
---
Education
PhD
MS
BA

Sackler Institute of Biomedical Sciences
Sackler Institute of Biomedical Sciences
University of Colorado

2008
2002
1996
Publications
Cook, B.D.
and Evans, T. (2014). BMP Signaling Balances Murine Myeloid Potential Through SMAD-independent p38MAPK and NOTCH Pathways.
Blood. 124: 393-402.
Cook, B.D.
(2014). Modeling murine yolk sac hematopoiesis with embryonic stem cell culture systems.
Front Biol (Beijing)
. 9(5):339-346.
Cook, B.D.,
Liu, S. and Evans, T. (2011). Smad1 Signaling Restricts Hematopoietic Potential after Promoting Hemangioblast Expansion. Blood. 117: 6489-6497.
PMID: 21515822.
Ferrari G,
Cook BD
, Terushkin V, Pintucci G, Mignatti P. (2009) Transforming growth factor-beta 1 (TGF-beta1) induces angiogenesis through vascular endothelial growth factor (VEGF)-mediated apoptosis.
J Cell Physiol. 219(2):449-58.
Cook BD
, Ferrari G, Pintucci G, Mignatti P. (2008) TGF-beta1 induces rearrangement of FLK-1-VE-cadherin-beta-catenin complex at the adherens junction through VEGF-mediated signaling.
J Cell Biochem. 105(6):1367-73.
Featured Article