It's true that sometimes doing science can feel like running a marathon. Except a marathon where you run two miles, turn around and run one mile back, and then turn around again and get back on your journey. So maybe it is more like an Ironman!
(See
this link
for a story about how pushing it to the limit can kind of get out of control....
But an important part of doing science is knowing how to set a finish line. Yes, you can decide where that line lies, or at least suggest a finish line, and then let peer review decide if its appropriate, or you need to keep on going a bit further. To do good science you need perseverance, endurance, and training, much like distance running. Im sure its why you find many runners in science. We needed to really persevere for a recent study published in Cell Stem Cell, which is a high impact journal that sets a high bar (sorry, didn't mean to analogize into yet another track and field event!). Kudos to our collaborators in the Shuibing Chen laboratory for fortitude and hard work, especially Hui Zeng and Min Guo, for their demonstration using a human ESC model that a specific GWAS-identified diabetes risk allele actually does impair insulin secretion, and for the identification of a candidate drug that can rescue the defect. This is a great example for how we will eventually develop patient-specific drugs to treat metabolic diseases. You can find the paper
here
:
The reviewers kept the finish line moving, but eventually we nailed it.
Meanwhile, this Sunday is the New York City Marathon, so best wishes for all the runners. Most likely will not be won by a scientist, but I hypothesize that plenty will be running. While members of our lab have run the NYC marathon in the past, more recently we are feeling pretty satisfied with the half. As seen below, from the Jersey City Half, completed about a month ago. Keep running and never give up!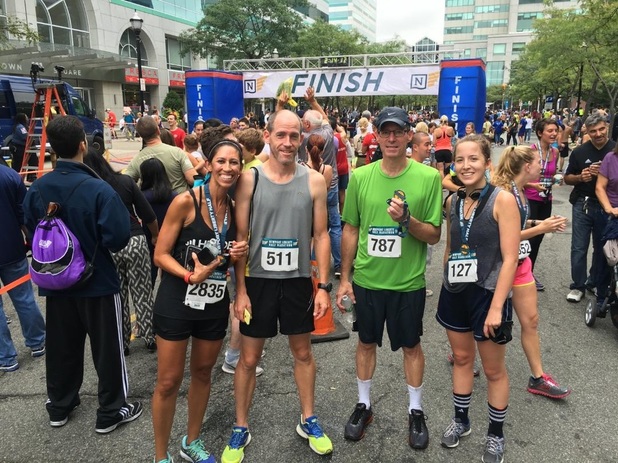 L-R: Ingrid, Bran, Todd, and Kelly at the finish line, Sept. 2016. Bran had to wait a bit for the rest of us!