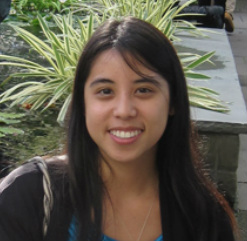 Alice Tang
alt2009@med.cornell.edu
Graduate Fellow
I studied Biomedical Engineering, with a focus in biomaterials and tissue engineering, at the University of Wisconsin - Madison. I am interested in how GATA factors play a role in cardiomyocyte differentiation. My project involves manipulating the expression of GATA4, GATA5, and GATA6 in mouse embryonic stem cells, and identifying and studying pathways that would promote commitment to the cardiac cell fate.
---
Education
| | | |
| --- | --- | --- |
| BS | University of Wisconsin | 2009 |
Publications
Turbendian, H.K., Gordillo, M., Tsai, S.-Y., Lu, J., Kang, G., Liu, T.-C.,
Tang, A.,
Liu, S., Fishman, G.I., and Evans, T. (2013). GATA factors efficiently direct cardiac fate from ESCs.
Development. 140: 1639-1644.