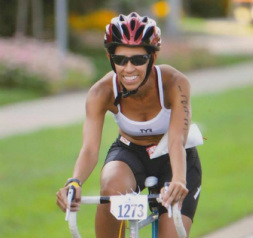 Ingrid Torregroza
int2005@med.cornell.edu
Laboratory Manager/The Real Boss
The Gata4 zebrafish morphant is affected in many organ systems. At the moment, I am interested in how the absence of Gata4 affects heart, gut, blood, and lateral line development.
---
Publications
Li, X., Lu, Y.-C., Dai, K., Torregroza, I., Hla*, T., and Evans*, T. (2014). Elavl1a Regulates Zebrafish Erythropoiesis via Post-transcriptional Control of gata1.
Blood. 123: 1384-1392.
Das, B.C., Thapa, P., Karki, R., Das, S., Mahapatra, S., Liu, T.-C., Torregroza, I., Wallace, D.P., Kambhampati, S., Van Veldhuizen, P., Verma, A., Ray, S.K., and Evans, T. (2014). Retinoic Acid Signaling Pathways in Development and Diseases.
Bioorg. Med. Chem. 22: 673-683.
Mendelson, K., Zygmunt, T., Torres-Vazquez, J., Evans*, T., and Hla*, T. (2013). Sphingosine-1-Phosphate Receptor Signaling Regulates Proper Embryonic Vascular Patterning.
J. Biol. Chem. 288: 2143-2156.
Xu, C., Fan, Z.P., Muller, P., Fogley, R., DiBiase, A., Trompouki, E., Unternaehrer, J., Xiong, F., Torregroza, I., Evans, T., Megason, S.G., Daley, G.Q., Schier, A.F., Young, R.A., and Zon, L.I. (2012). Nanog Regulates Endoderm Formation through the mxtx2-Nodal Pathway. Dev. Cell. 22: 625-638.
PMID: 22421047.
Torregroza, I., Holtzinger, A., Mendelson K., Liu, T.-C., Hla, T., and Evans, T. (2012). Regulation of a Vascular Plexus by gata4 is Mediated in Zebrafish through the Chemokine sdf1a. PLoS ONE. 7: e46844.
PMID: 23056483.