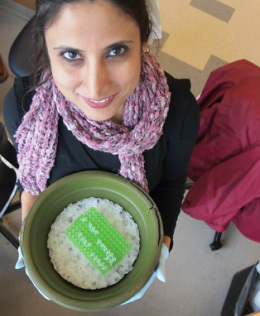 Ritu Kumar Ph.D.
rik2002@med.cornell.edu
Research Assistant Professor of Cell and Developmental BiologyDepartment of Surgery
The goal of my project is to use induced pluripotent stem cells (iPS) as a tool to understand the mechanism of aging.
Various genetic and environmental factors have been identified that increase or decrease life span. It has been also hypothesized that aging of stem cells is in part responsible for aging phenotype; obvious examples include the loss of skin flexibility and extended time of bone healing in aged individuals. We hypothesize that humans with the inherited trait of exceptional longevity possess enhanced stem cells activities with relatively suppressed rates of stem cell aging and/or enhanced regenerative capacity. To test this hypothesis, iPS cells will be generated from offspring of parents with exceptional longevity and will be compared for stem and derivative progenitor activities with those derived from offspring of parents with usual survival. This novel approach will not only help in understanding the mechanism of aging but also throw a light on molecular basis of age related diseases.
---
Education
PhD
MS
BS

Sanjay Gandhi Post Graduate Institute of Medical Sciences
Dr.RML Awadh University
Dr.RML Awadh University


Lucknow, UP, India
Faizabad, UP, India
Faizabad, UP, India

Publications
Kumar, R.,
DiMenna, L.J., Chaudhuri, J., and Evans, T. (2014). Biological Function of Activation-Induced Cytidine Deaminase (AID).
Biomed. J. 37: 269-283.
Kumar, R.
and Evans, T. (2014). Control of Epigenetic Memory and Pluripotency by DNA Methylation. Cell Biology: Research & Therapy. S1. doi:10.4172/2324-9293.S1-002.
Kumar, R.,
DiMenna, L., Schrode, N., Liu, T.-C., Franck, P., Munoz-Descalzo, S., Hadjantonakis, A.-K, Zarrin, A.A., Chaudhuri, J., Elemento, O., and Evans, T. (2013). AID Stabilizes Stem Cell Phenotype by Removing Epigenetic Memory of Pluripotency Genes.
Nature. 500: 89-92.
Kleiman, D.A., Beninato T., Sultan, S., Crowley, M.J., Finnerty, B.,
Kumar, R.,
Panarelli, N.C., Liu, Y.-F., Lieberman, M.D., Seandel, M., Evans, T., Elemento, O., Zarnegar, R., and Fahey, T.J.III. (2014). Silencing of UCHL1 by CpG Promoter Hypermethylation is Associated With Metastatic Gastroenteropancreatic Well-Differentiated Neuroendocrine (Carcinoid) Tumors.
Annals of Surg. Oncol. Suppl 4: 672-679.
Gordillo M,
Kumar R,
Turbendian H.K, Evans T. (2011) Directed differentiation of mesdendoderm derivatives from embryonic stem cells: Hormonal signals that regulate early embryogenesis In:
Embryonic Stem Cells.
Craig Atwood, Intech Publishing: 271-302.
Kumar R,
Evans T. Hematopoiesis. In: Encyclopedia of life sciences. (2010); Nature Publishing Group, London.
www.els.com
Kumar R.
Avagyan S, Snoeck HW. A quatitative trait locus on chr.4 regulates thymic involution. (2010).
J Gerontol A Biol Sci. 2010;65: 620-5.
Fossati V*,
Kumar R*,
Snoeck HW. Progenitor cell origin plays a role in fate choices of mature B cells. (2010)
J Immunol. 2010;184(3):1251-1260
*Equal contribution
Kumar R,
Fossati V, Israel M, Snoeck HW. Lin-Sca1+ckit- bone marrow cells contain early lymphoid precursors that are distinct from common lymphoid progenitors. (2008).
J Immunol.; 181(11): 7507-13
Langer JL,
Kumar R,
Snoeck HW. Age-related accumulation of a novel CD44+CD25low T cell population in the hematopoietic organs of the mouse. (2006)
J Gerontol A Biol Sci.2006;61(6):568-71
Kumar R,
Langer JC, Snoeck HW. Transforming growth factor-beta2 is involved in quantitative genetic variation in thymic involution. (2006)
Blood. 107(5):1974-9.
Mittal RD,
Kumar R,
Bid HK, Mittal B. (2005) Effect of antibiotics on Oxalobacter formigenes colonization of human gastrointestinal tract.
J Endourol.
19(1):102-6.
Kumar R,
Ghoshal UC, Singh G, Mittal RD. Infrequency of colonization with Oxalobacter formigenes in inflammatory bowel disease: possible role in renal stone formation. (2004)
J Gastroenterol Hepatol. 19(12):1403-9.
Mittal RD,
Kumar R.
Gut-inhabiting bacterium Oxalobacter formigenes: role in calcium oxalate urolithiasis. (2004)
J Endourol. 18(5):418-24.
Kumar R,
Kapoor R, Mittal B, Kumar A, Mittal RD. Evaluation of urinary abnormalities in urolithiasis patients: a study from north india.
Ind J of Clin Biochem.
2003, 18 (2) 209-215
Mittal RD,
Kumar R,
Mittal B, Prasad R, Bhandari M. Stone composition, metabolic profile and the presence of the gut-inhabiting bacterium Oxalobacter formigenes as risk factors for renal stone formation.
Med Princ Pract.
2003;12(4):208-13.
Kumar R,
Mukherjee M, Bhandari M, Kumar A, Sidhu H, Mittal RD. Role of Oxalobacter formigenes in calcium oxalate stone disease: a study from North India.
Eur Urol.
2002;41(3):318-22.